If you would like to be kept updated about Consuta activities, we can include you on our email circulation. Subscribe by contacting us via email
Supporters repositional
Tuesday 18th July
This was delightful and quite relaxed trip upriver. We needed to move Consuta to Beale Park in time for the Goring Gap Regatta to be held on Saturday 22nd July, the rally site is just above Cleeve Lock. We only had a few supporters come along for the outing, possibly due to the short notice given about the date,
Crew having a cuppa while raising steam at Charvil. An Iconic building above Caversham bridge.
Thames Traditional Boat Festival
Friday14th - Sunday 16th July
Consuta was moved down river from Charvil on the Friday, Coal and fenders dropped off at our mooring, then it was up to the museum landing stage to pick up our private party (The Worshipful Company of Plumbers). Friday is always a fairly quiet day at the Traditional boat festival. We set up a small display explaining details of Consuta plywood, right by the mooring pontoon. This attracted quite a lot of interest.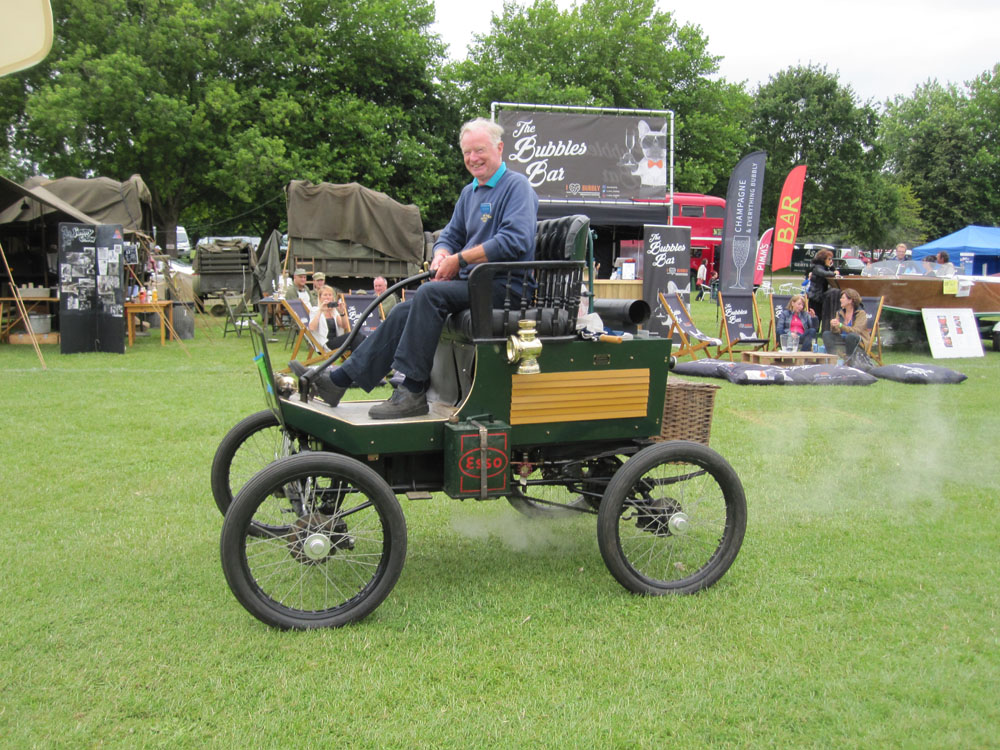 Saturday started off raining so we kept the stern and bow covers on but Mark our engineer decided he would raise steam regardless, so by about 1 o'clock we decided because of requests to have a run round the rally course - ie up to Henley bridge - turn round down and round Temple then back to the mooring; I suppose about 2 -3 miles. This was popular so I think we made another three similar trips - trying to join in the steamboat parade - not sure if we made this though.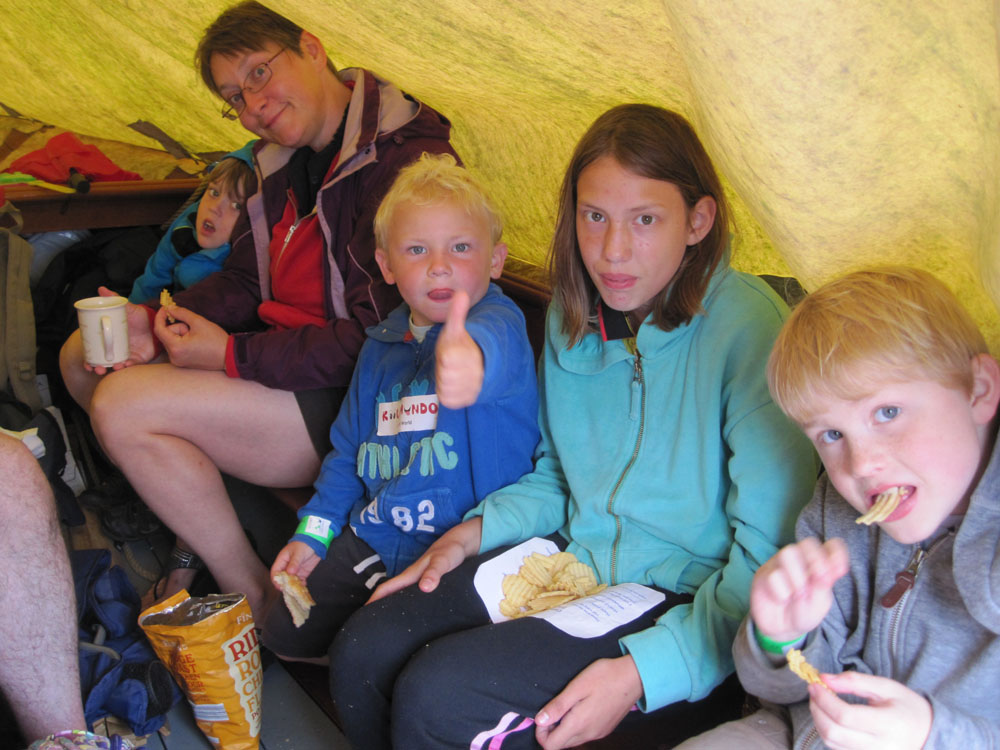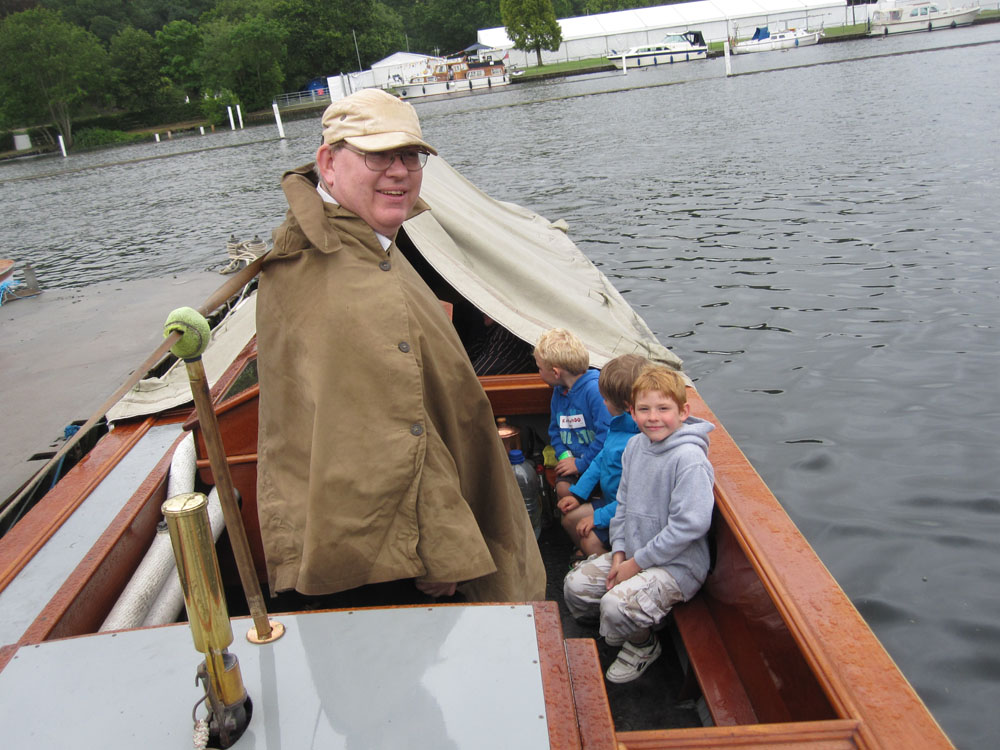 Under front cover - What's all this then? Budding new recruits?
Sunday was a much nicer day and quite warm. We probably made about three trips, then had to set off back for Charvil at about 3:30. After a long wait at Marsh lock with a very helpful lock keeper, the rest of the trip was just perfect. Arrival time was about 5:30pm.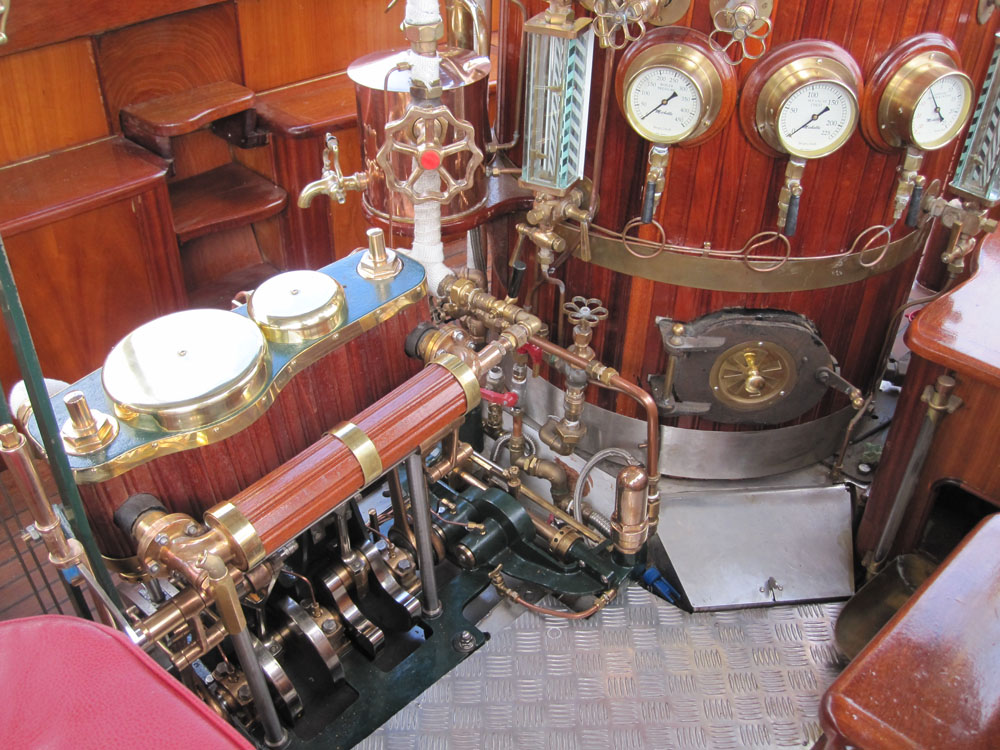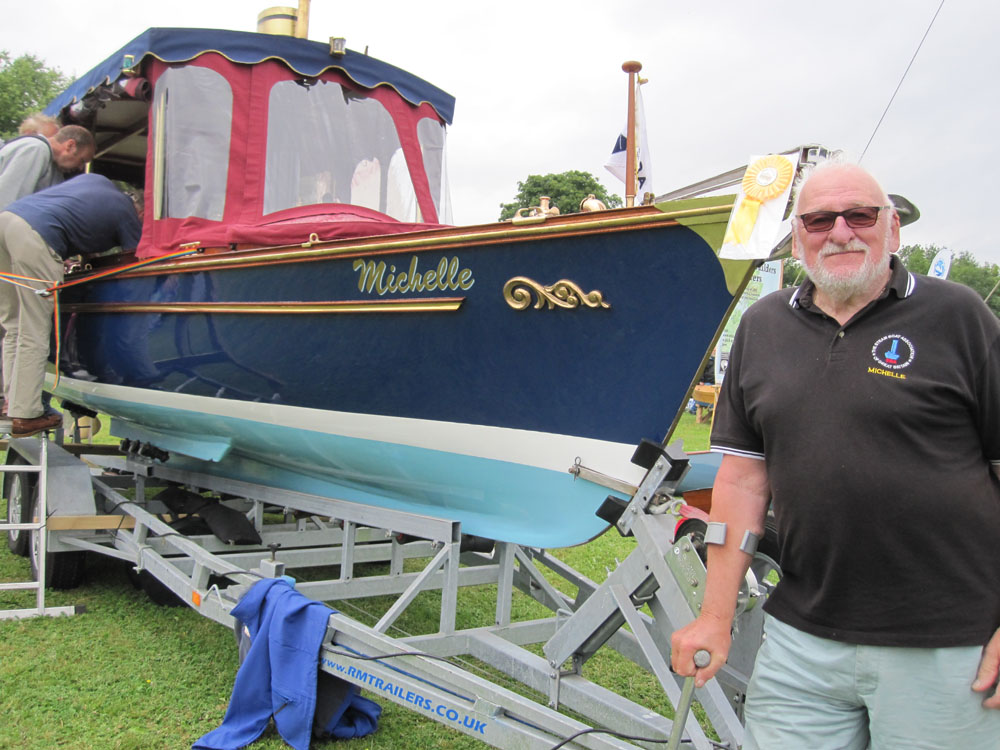 Mike Bell's new steamboat.
Thanks to all our supporters, who helped manage Consuta throughout the weekend - an excellent event.
The Reading Town Regatta
Saturday 24th June
We had agreed to get to the Regatta site on the Dreadnought reach by about 12:00, the rowing course using three lanes is just downriver from the Kennet mouth.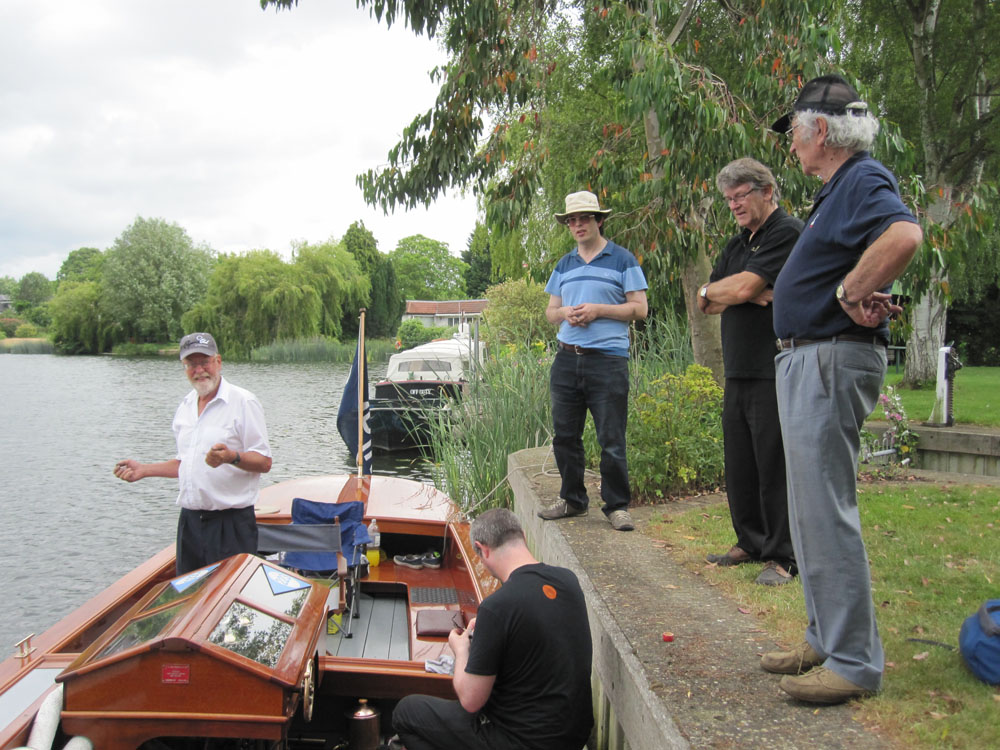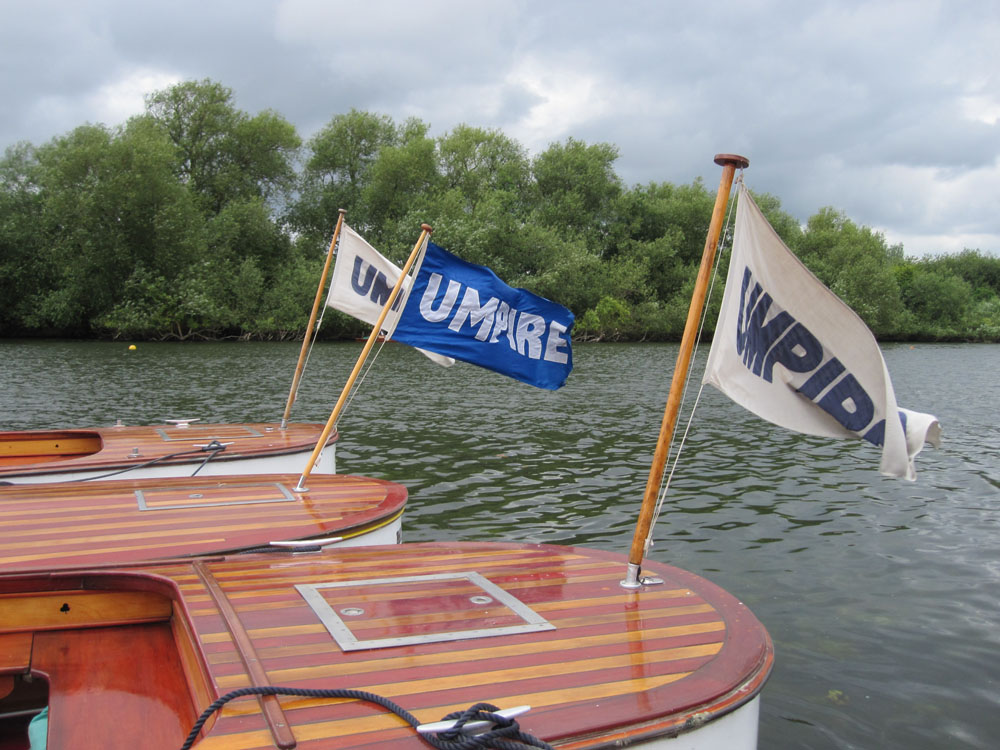 Crew getting ready and raising steam at Charvil. Launches moored alongside during lunch.
The day was quite windy and much cooler than last week and some very light rain early morning. The regatta course is set as two thirds of the width for racing and one third for the normal river navigation. Travelling up to the start I think the measurements must be from the bank as there are rows of willows hanging over the water reducing the navigation width even more.
The Henley Women's Regatta
Saturday 17th June
This event is a three day event but Consuta only attends on Saturday which is the busiest day. The weather forecast was for 30 degrees and a start of lighting up was made at 7:30am. Consuta was at Temple island on the Henley reach by 10:00am ready for a long hot day.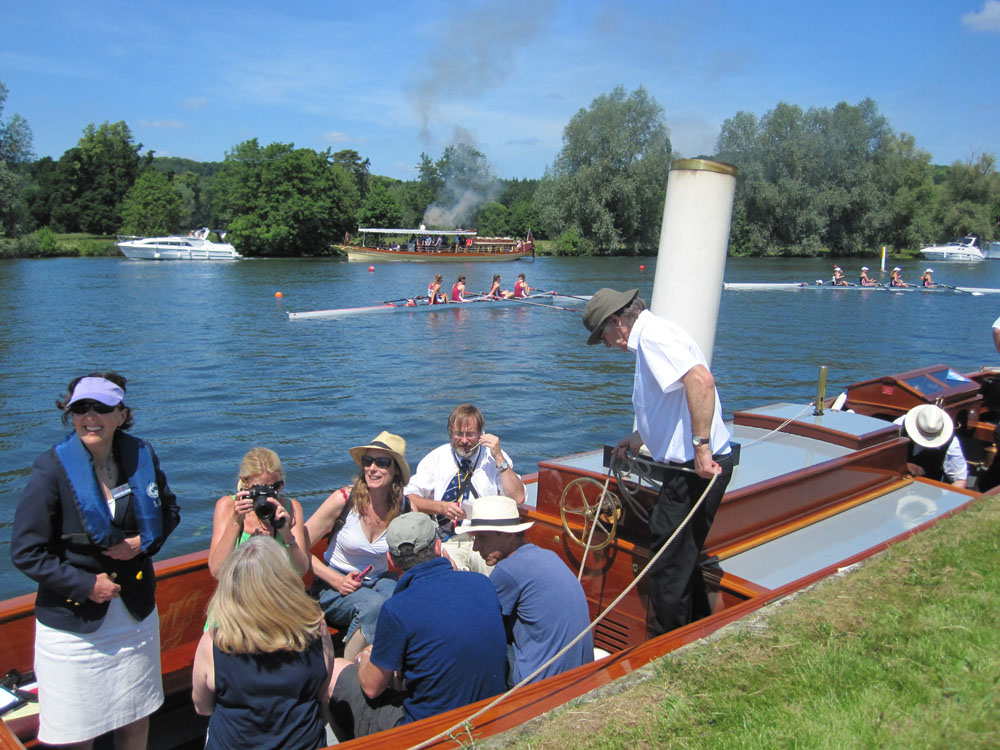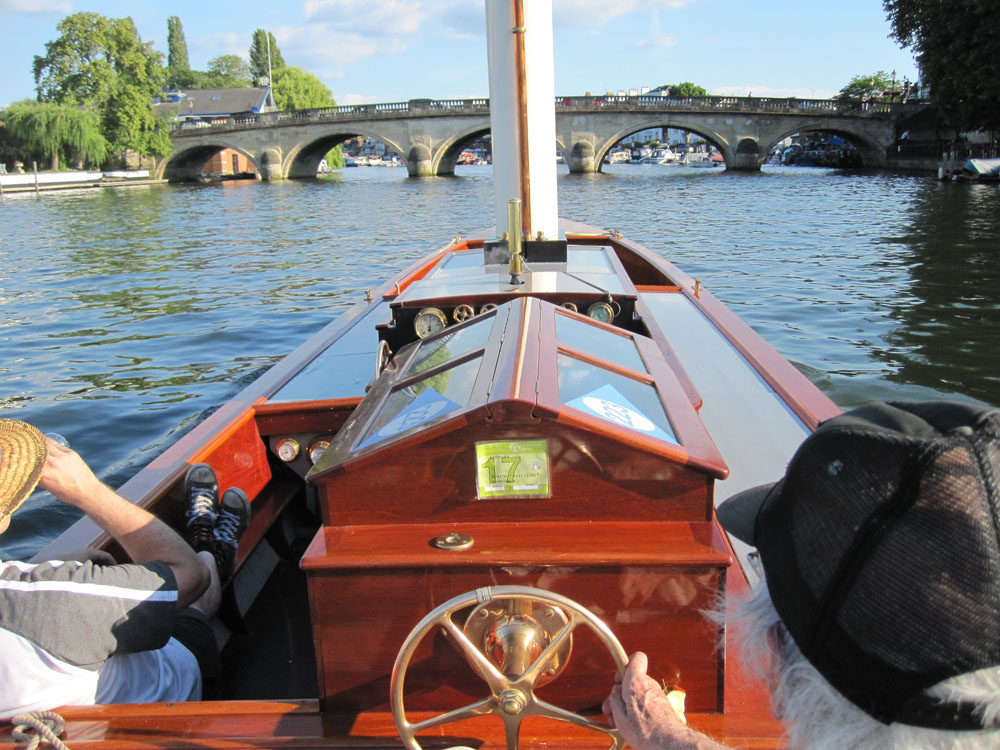 Getting ready for a race - Alaska in background Approaching Henley bridge on trip back to Charvil.
The relief crew arrived a just after 2:00pm and the last race was just after 6:00pm. Consuta then returned to Charvil by 8pm, a delightful cruise with lots of boats out enjoying the fine weather. Consuta was packed up by 9:00pm. A very long day for some.
The Beale Park Boat Show
Thursday 1st to Sunday 4th June
Setting up day (Thursday) for the boat show was a busy time. Cygnet to move down to our pitch, the marque and gazebo to be erected, and the mooring pontoon to be serviced and made safe for the public.
Many thanks to all who helped with this vital work. Below are some pictures taken during the four days.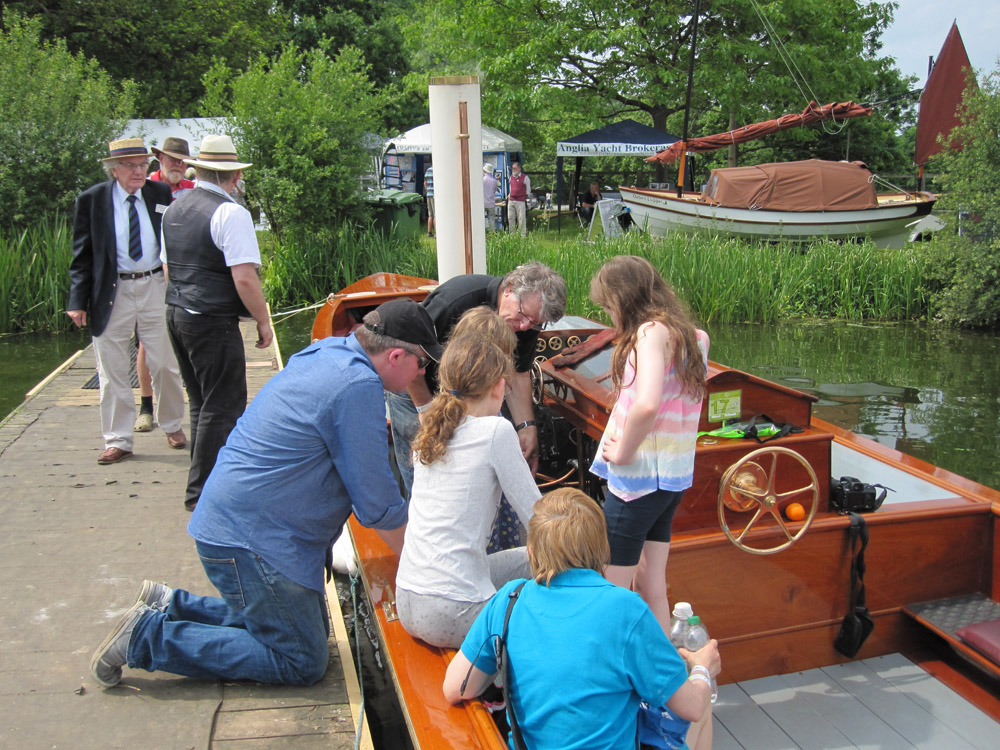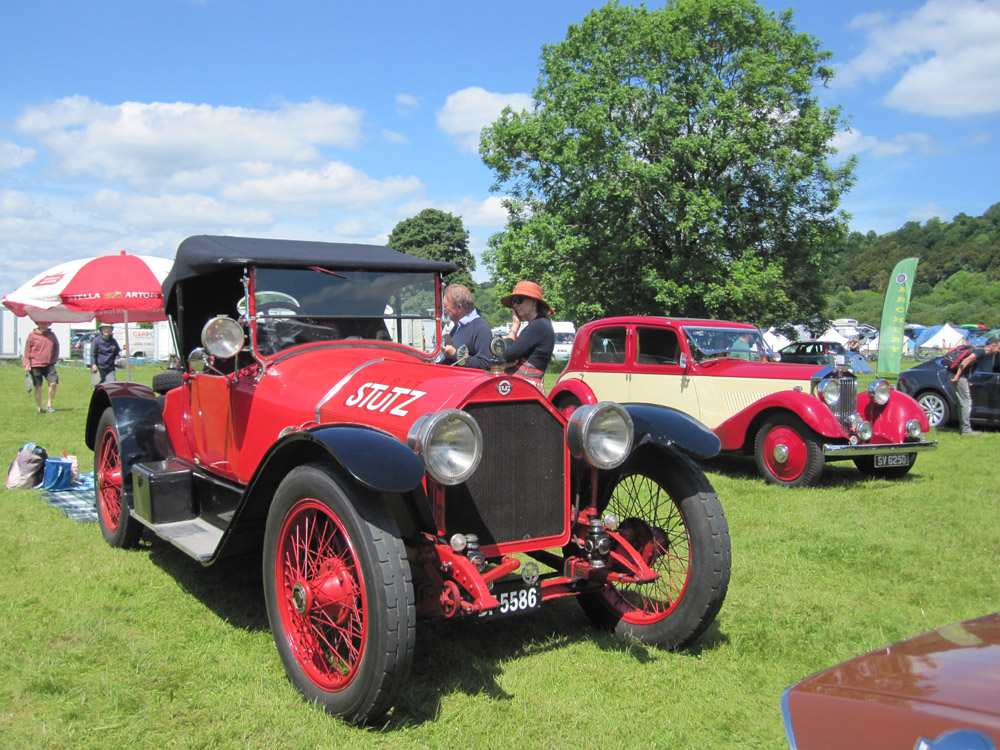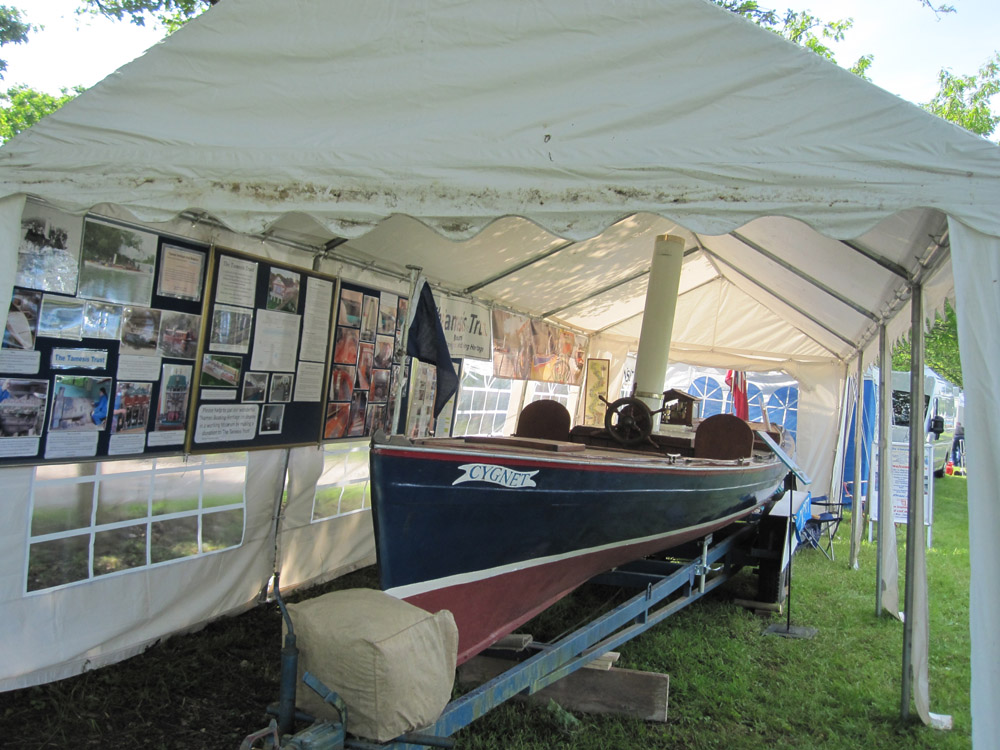 Pre Season Work party News
The boiler inspection carried out on 28th May
David our SBAS inspector, thoroughly check the boiler cold and empty, then after fitting the boiler doors we filled up with water and lit the fire to raise steam.
The steam test with safeties roaring was carried out to the inspectors satisfaction and we were complete by about 2pm. Do you know we didn't even test the engine as there was so much other work that needed to be done for the Lottery grant project.
Re launching Consuta 23rd May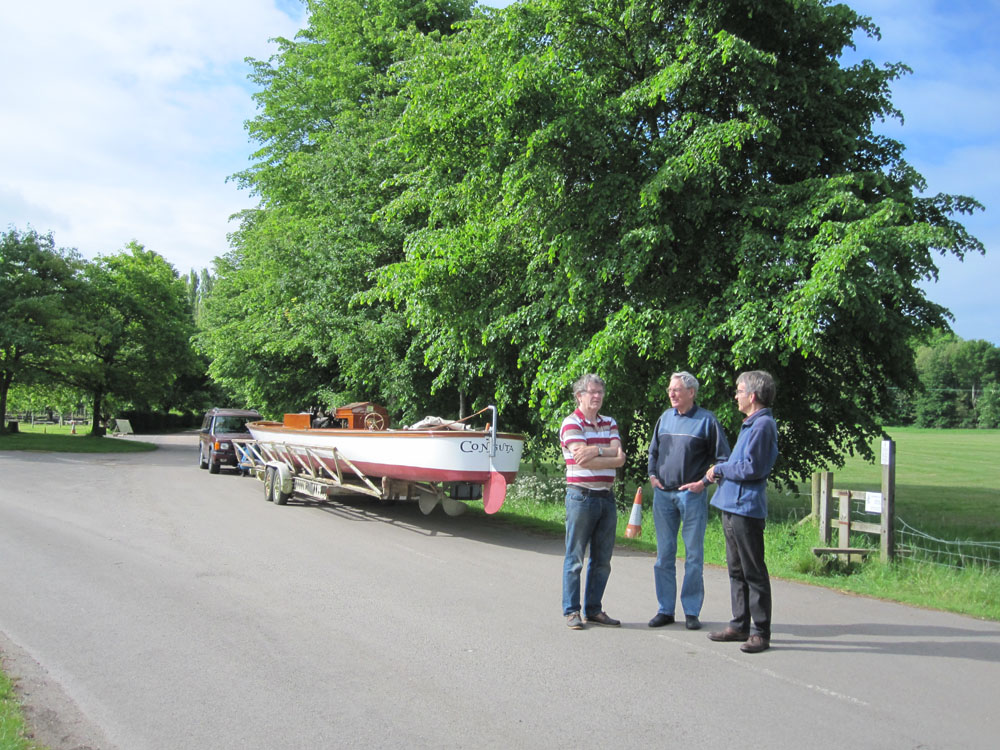 What a lovely day
As usual we only took about an hour to touch up the antifoul then get Consuta lifted back into the water.
This craning always has risks but we certainly manage well on the day.

Thank you to Roy our crane operator.
Also many thanks to all who came along and helped out, even cleaning up our mooring jetty ready for the Boat Show.
Final prep work on Consuta 5rd May
There were three main tasks for our helpers, 1st to paint the boiler backhead, 2nd finish maintenance work on some steam valves, and 3rd to start re-painting the hull antifoul.
After the morning's work some of us had a jolly good meal at the Streatley Bull. Following lunch Paul Lyn and myself returned to Consuta, Paul wanted to check out for any wear or adjustments needed to the engine and also continue work on antifouling the hull.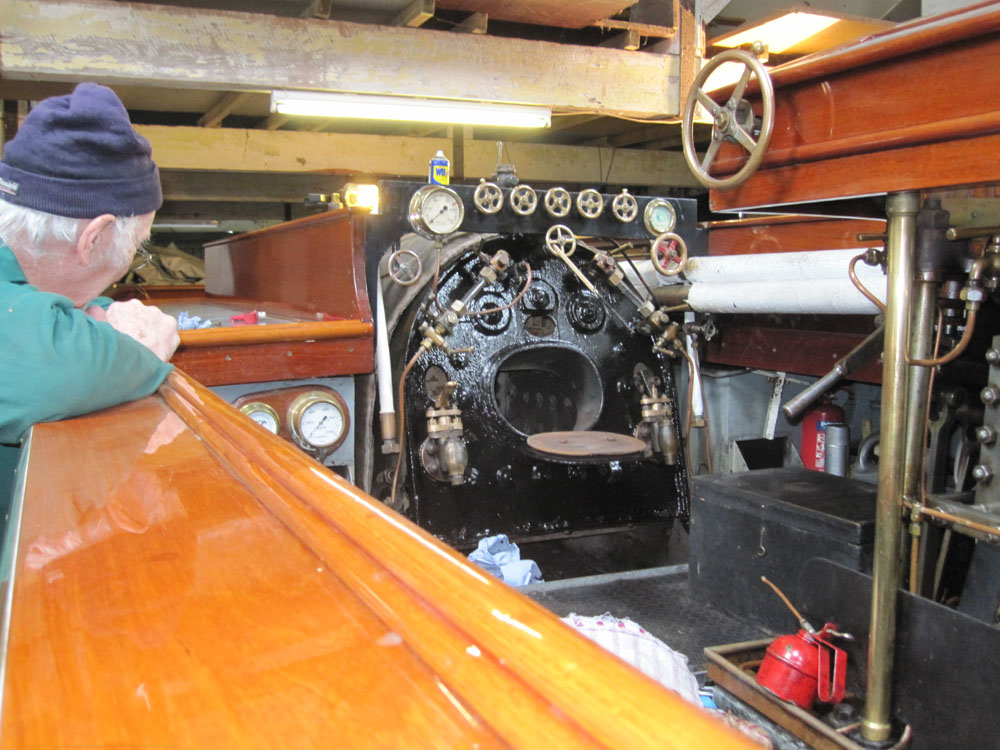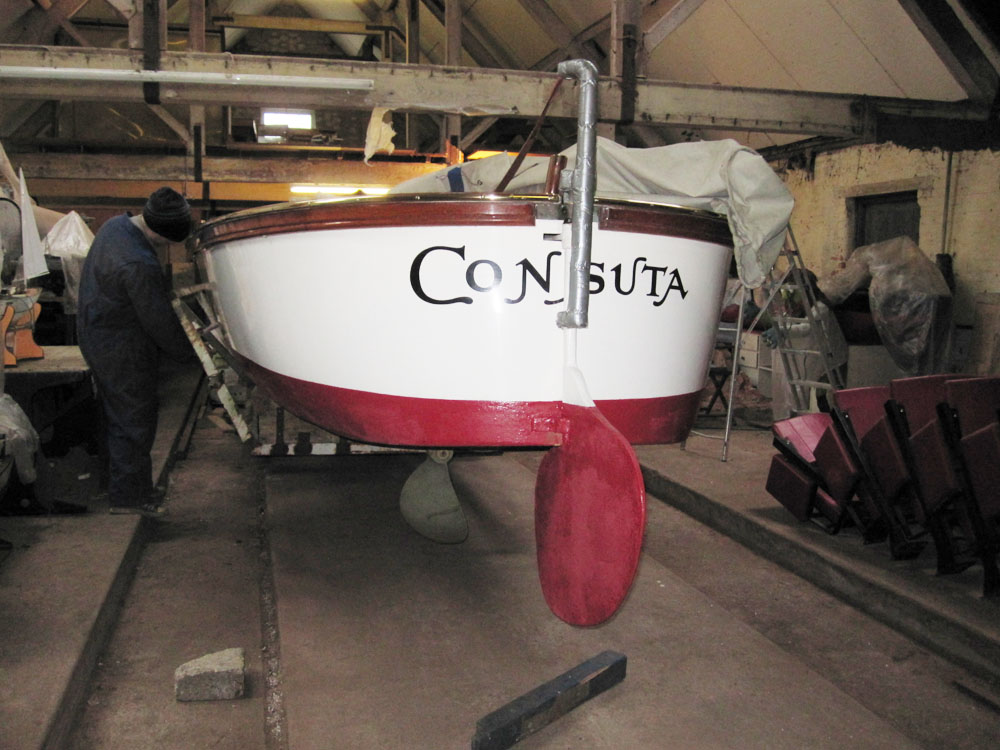 The backhead first coat - looks a bit glossy to me stern section now antifouled
The next major work task will be to help at the re-launch Consuta now arranged for Tuesday morning 23rd May, help always welcome or just come along and watch.

Also if you are interested we are hoping to take delivery of our exhibition unit very soon - if you want to know more about this, please contact me by email
Work on Cygnet and Consuta on 21st April
Despite access difficulties we managed to get quite a bit done, even under supervision.
Part of the morning was used to moved Cygnet's trailer into the tithe barn and get ready to place Cygnet on it. This will involved the purchase of a few items to make Cygnet secure on the trailer.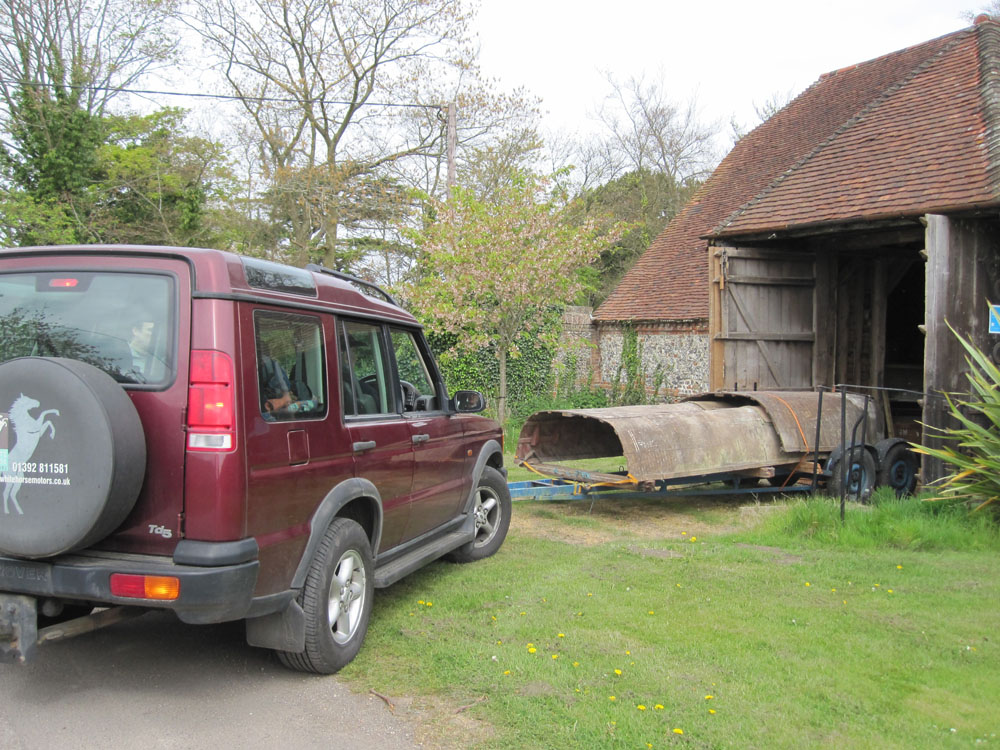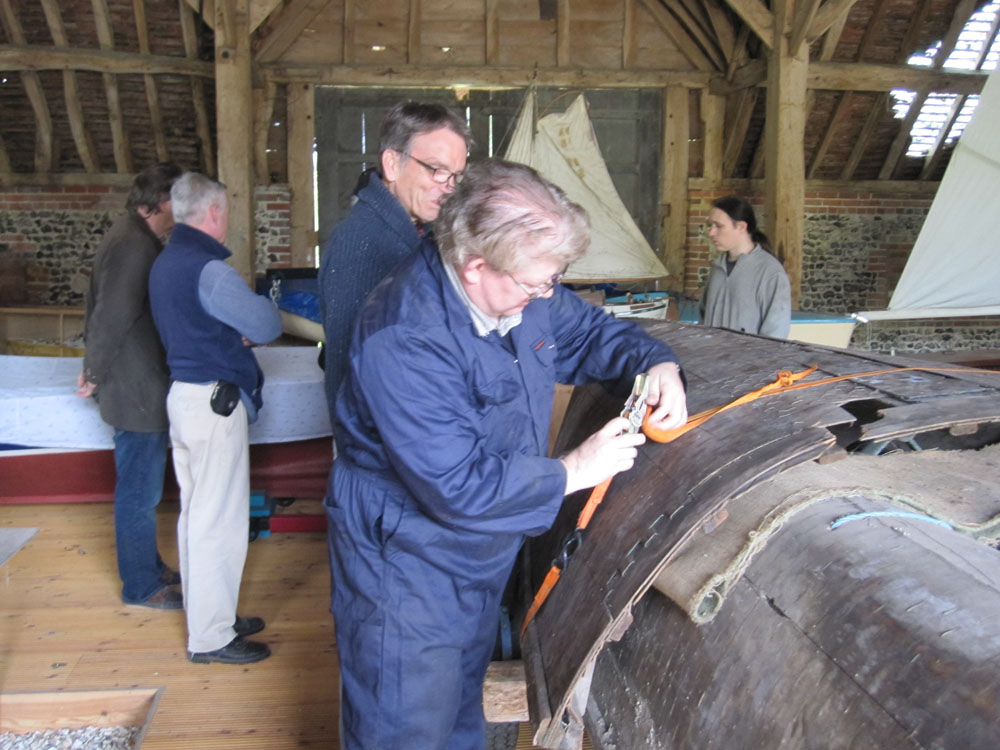 Moving Cygnet's trailer then untying the two sections of Ulula, a 30ft Saunders hull cut in half?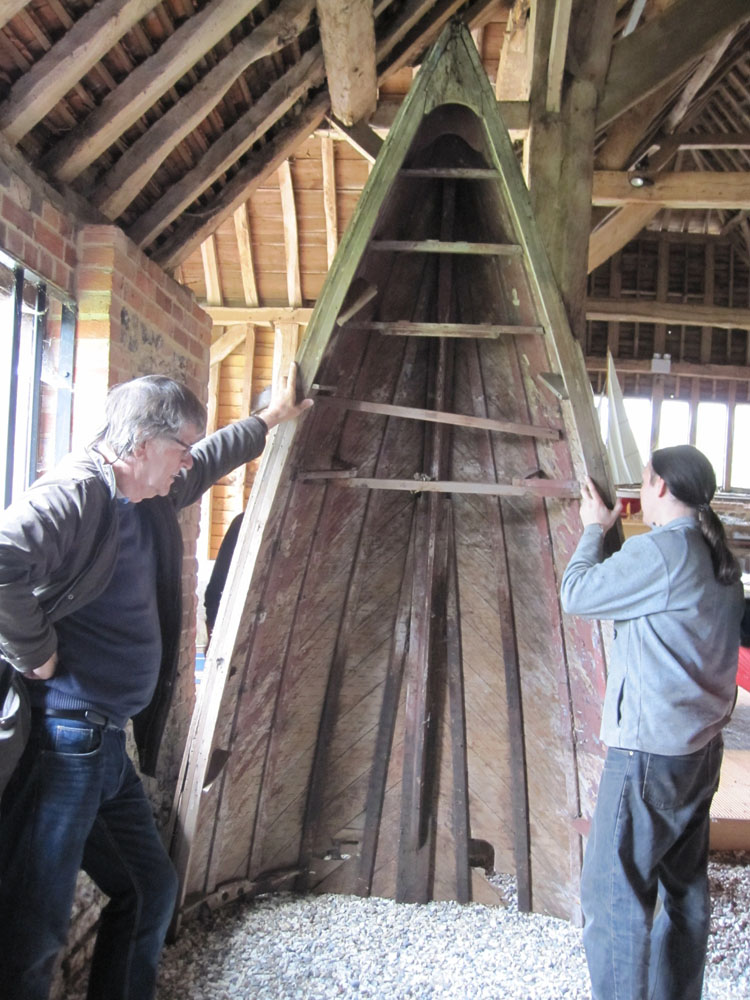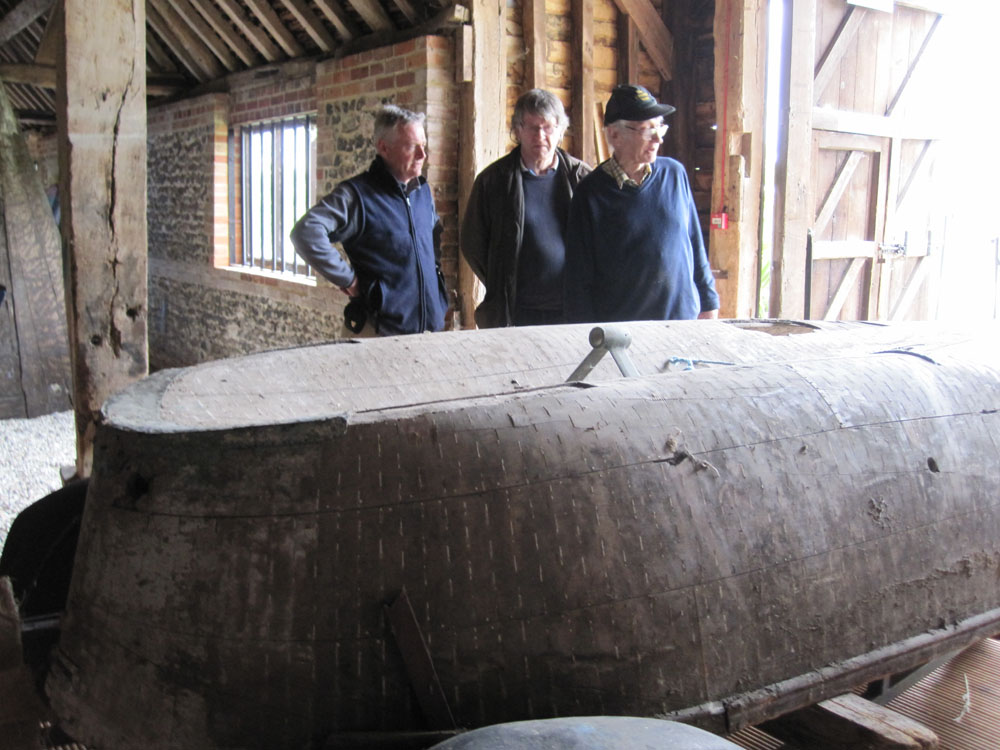 Well that's the bow bit sorted but what is the best way to move the stern?
It is surprising how much can be done with half a dozen folk lifting
If you are wondering why this early 30ft Saunders hull was cut into two pieces I don't know, but it should provide a useful future exhibit for the museum showing how stitched hulls were made.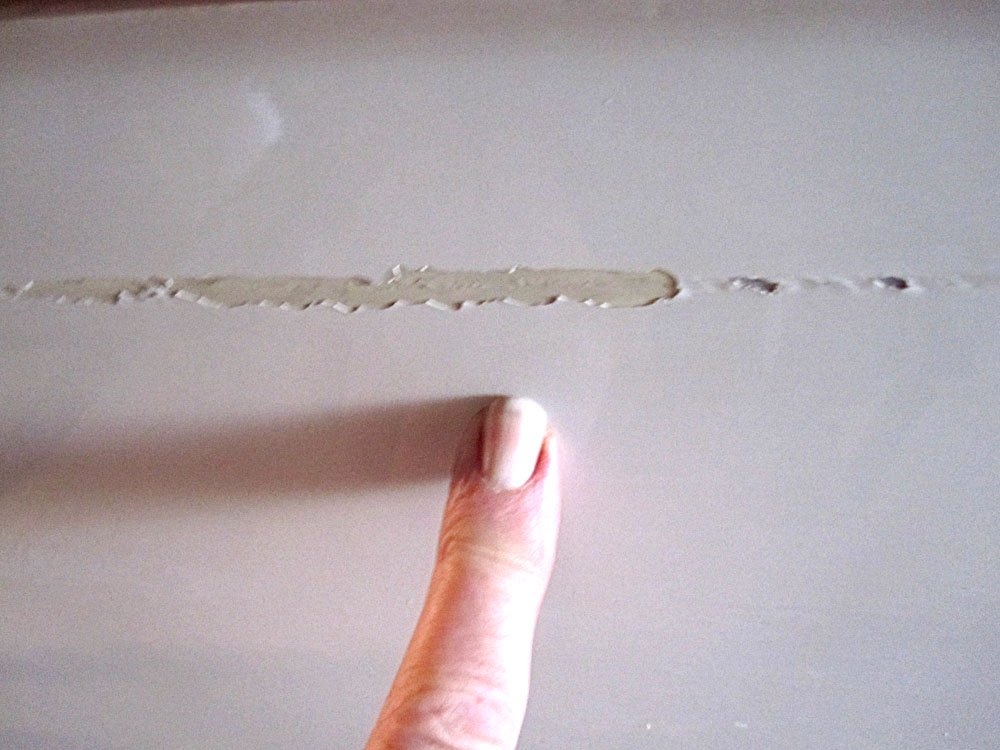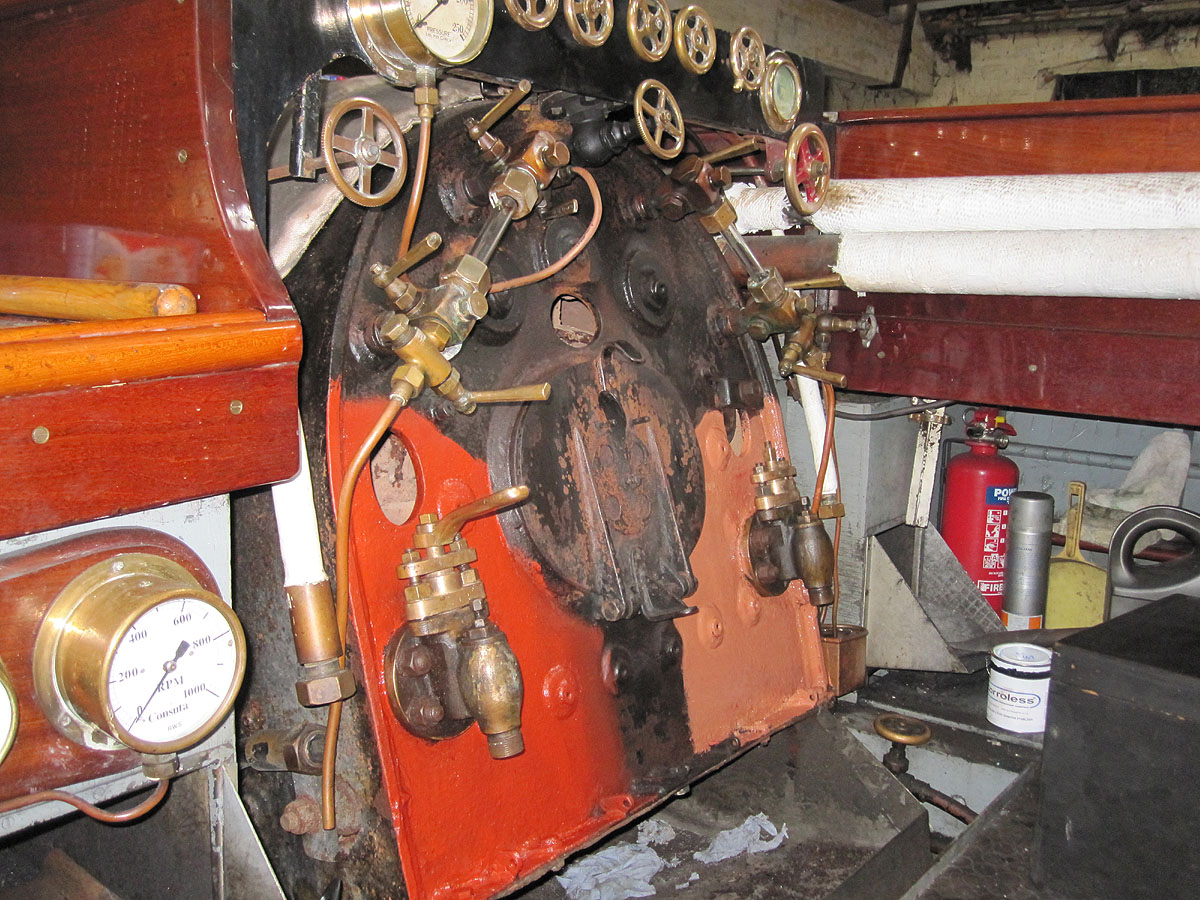 Above shows a scratch sustained at the Boat Show last year, a bit of touch up here should cure this.
We've had a lot of trouble finding a paint that will stay on the backhead of the boiler. Lots of different paints have been tried. This time - on the left is an undercoat called Bonda Rust primer and - on the right is an undercoat called Corroless S Rust Treatment Killer Inhibiting Primer, good for 200C. The topcoat will be finished in Hammerite smooth black, over the top to see the results.

Greg S has suggested "Fortress" black satin paint from B&Q has been successful on Gondola's boiler - decisions - decisions, what shall we do?
Obituary Sad News - Richard Howard died - Saturday 18 March 2017
Richard Howard was Chairman of the Child Beale Trust, this Trust's popular wild life park had been managed by Richard ever since it first opened some 60 years ago.
Richard was a keen ornithologist following in the footsteps of his great Uncle Gilbert Beale and has been the main driving force to help keep the park viable for 60 years; quite a challenge with all the modern options that vie for the attentions of young families.
Richard's other main hobby was model boats; he amassed a collection estimated at over 2000 models, some of these are on display at the park pavilion.
Richard has been a valued friend of the Consuta Trust and a personal friend of mine - we shall greatly miss Richard. Our condolences to all the family.

The funeral was held Wednesday 29th March for the family.
First work party of 2017
March 24th
Never sure how many supporters will be coming along, so pleasantly surprised that we had 10 helpers plus three visitors
First task was to remove all the extra covers placed over Consuta in November. There was now plenty of space in the shed with room to set up the table and chairs inside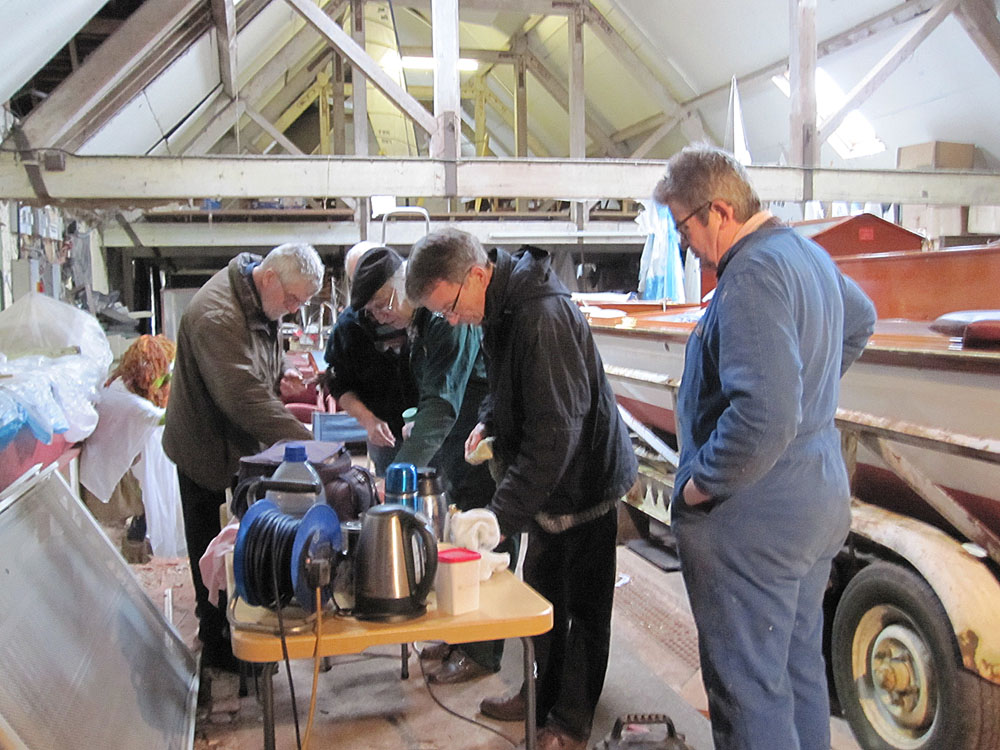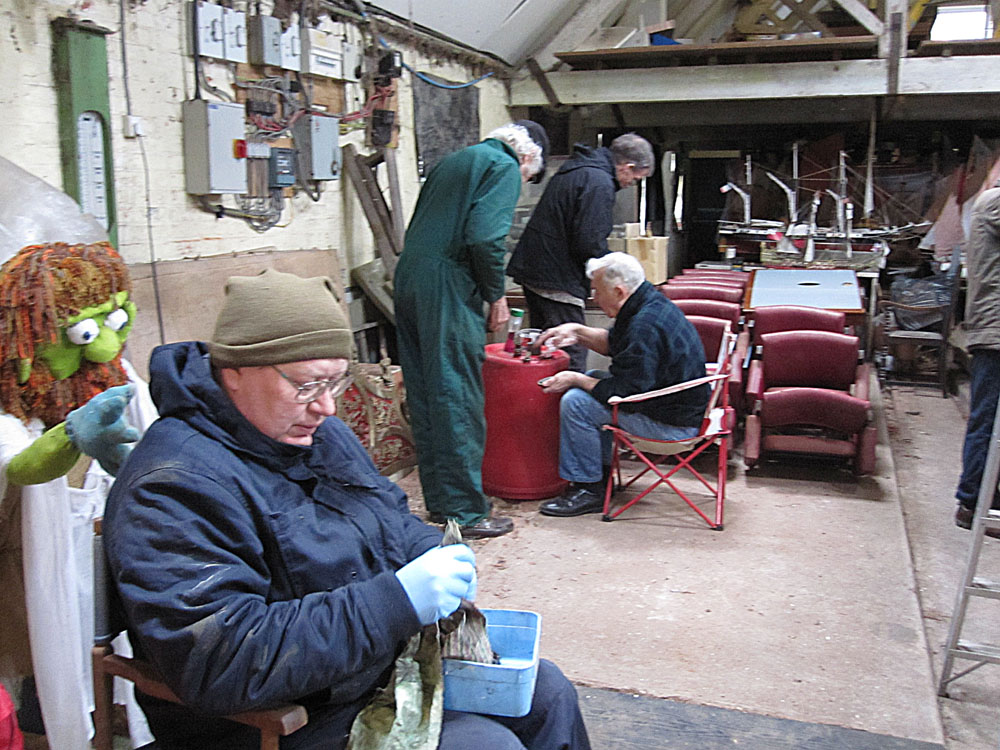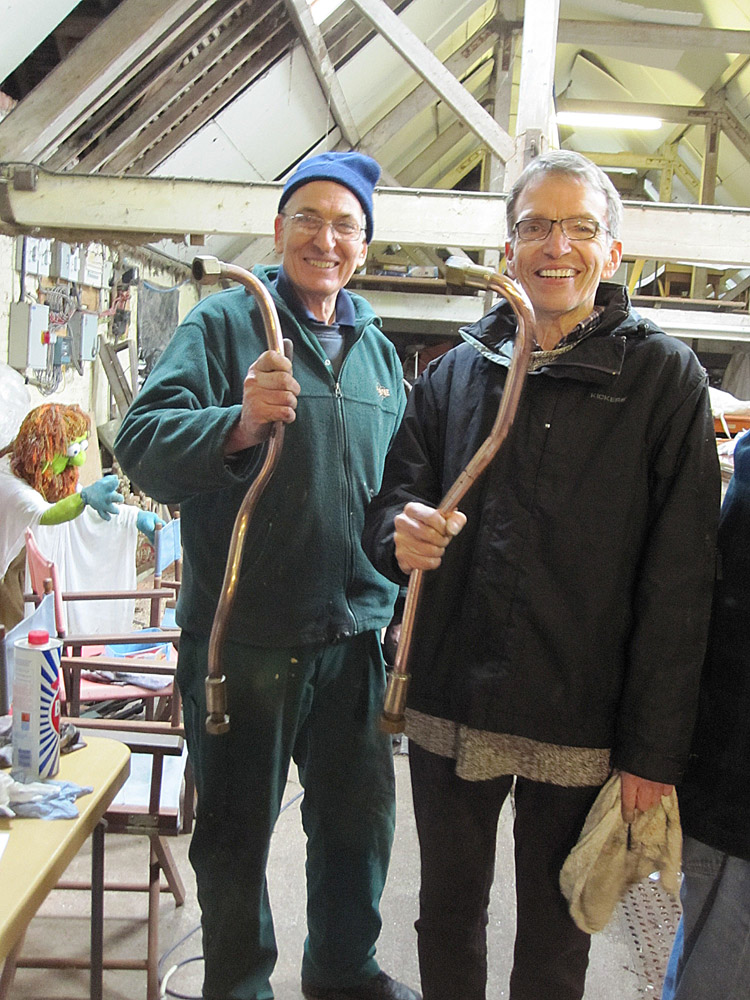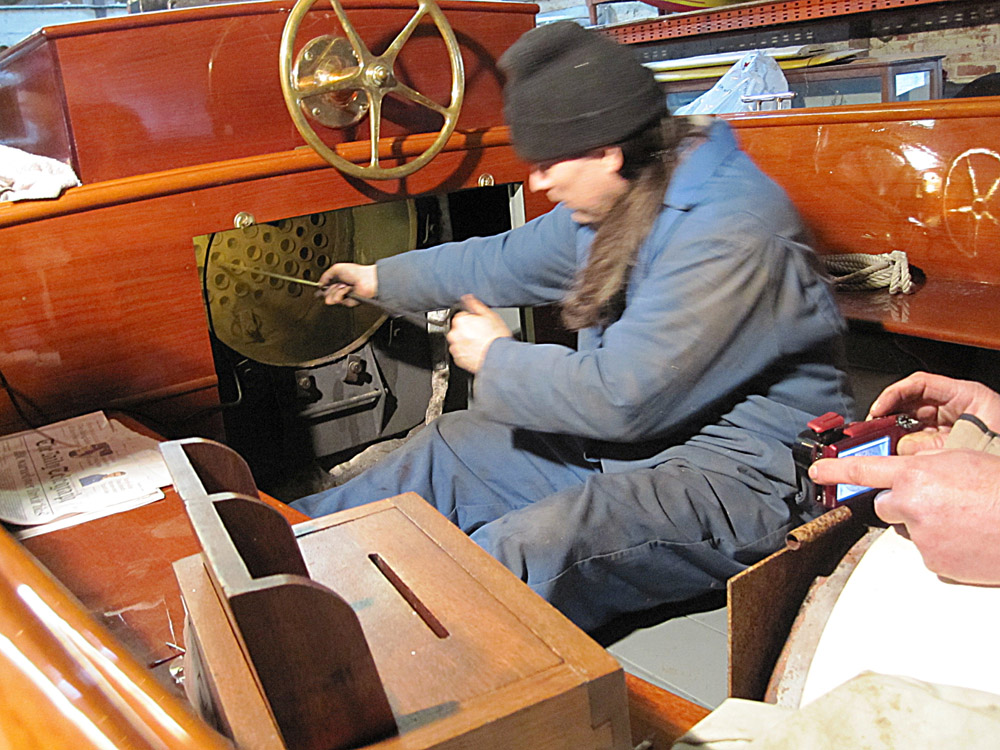 The photo on the far left show results of a bit of polishing, was this a competition?.
You know I don't think we ever did clean the tubes during the 2016 season, mind you a hard burst on the engine usually does this quite well.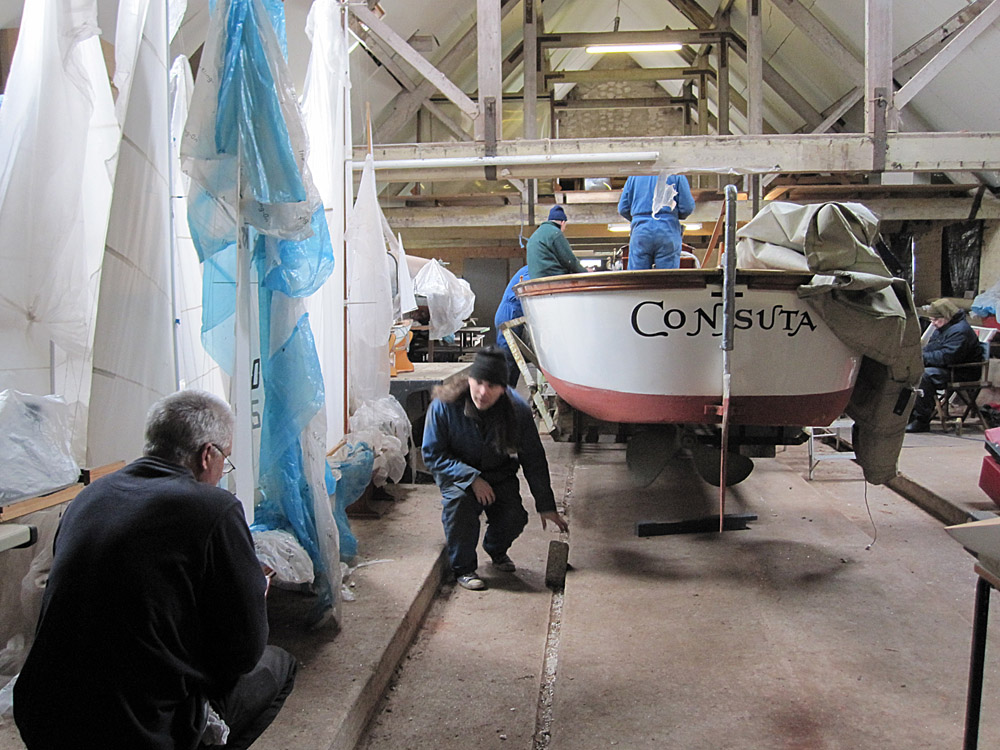 Looking at boiler drawings, and sizing something up - now what's this all about? - more later.
All went reasonably well except one of the boiler feed check shut off cocks was seized and the spindle sheared when applying a little force - oops! So how do we fix this?. However we now have a very nice vice courtesy of Adrian, so only need the work bench?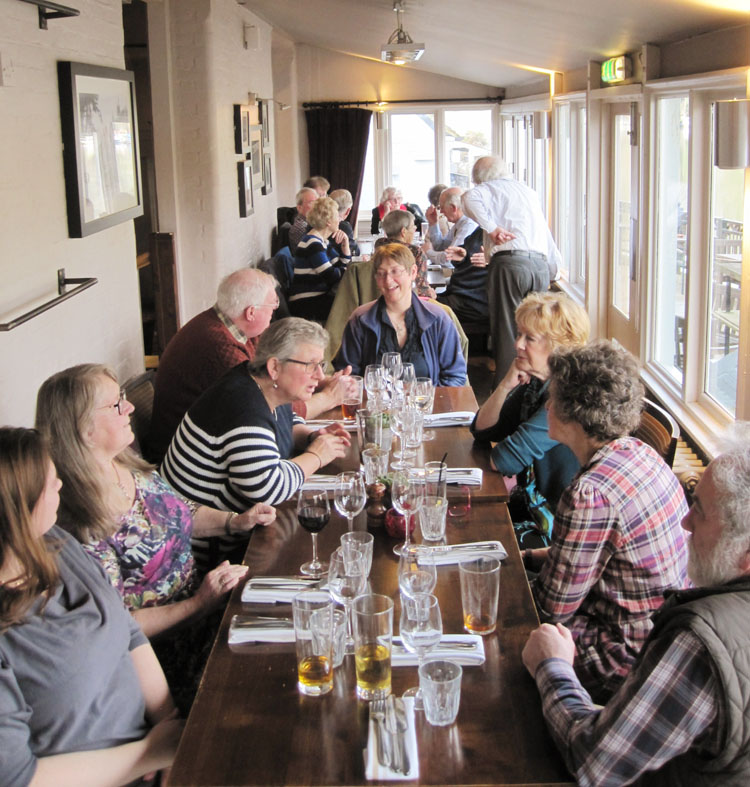 The Consuta Winter Social
14th February 2017
Yes we did have a Consuta social this year but needed to change the venue at short notice
Twenty Consuta supporters came to the Swan near Pangbourne where we had the use of the whole gallery which overlooks the river; for more about the social look at our facebook page for photos.
Any suggestions for a venue for next year?
Consuta moved under cover for the Winter
A Working morning 19th December
A small work party moved several large items out of the old cow shed to make room for Consuta.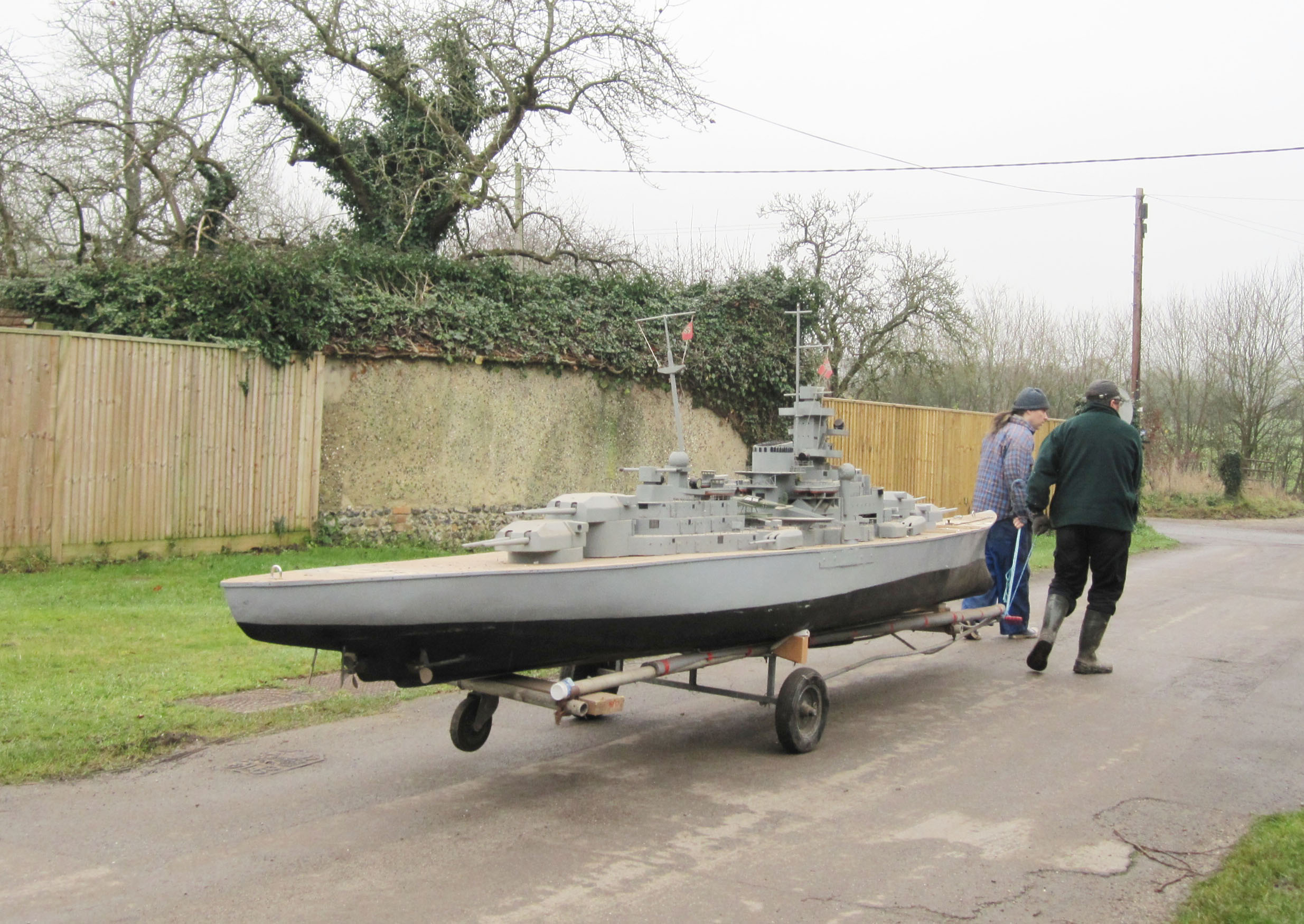 The photos above show Cygnet with temporary dust sheets in the Tithe Barn and a large model of the Bismark being moved. Other boats moved from the shed to the barn were a flying fifteen and a 12ft sailboat. The front tow hitch on the disco was very useful. We were then able to move Consuta into the shed out of the winter weather; it just started to rain at this point.
Consuta activities in October
Lifting Consuta from the water Wednesday 26th October
The crane had been booked about three weeks before the date so there is never any guarantee about weather conditions. Fortunately on the day it was not too cold even the sun came out by about 9:30am. Roy with the crane was there before 9:00, Consuta was already by the slipway when we finally got the trailer into the field. The craning went like clockwork, the hull was cleaned and washed down, but then there was a problem putting her onto the trailer, eventually resolved and due to one of the pads not being in the correct position.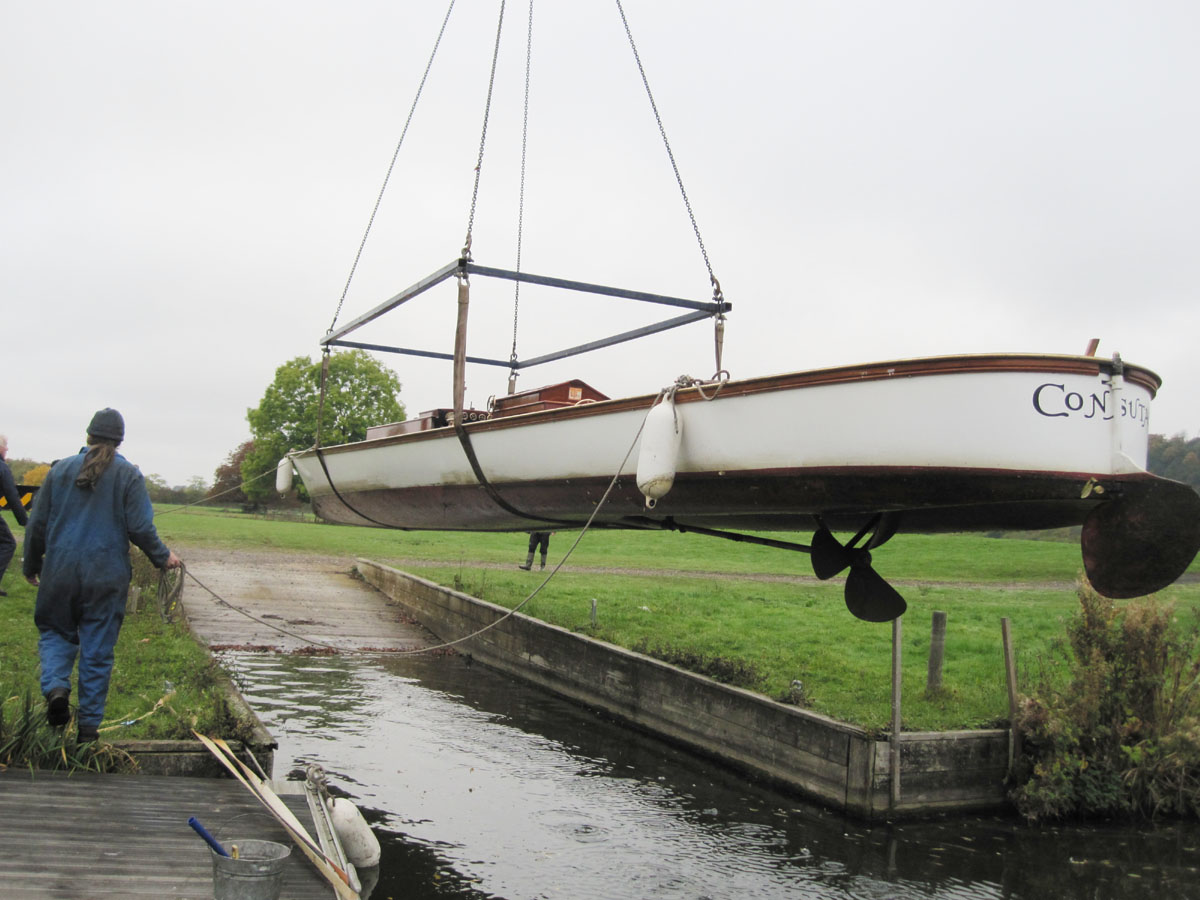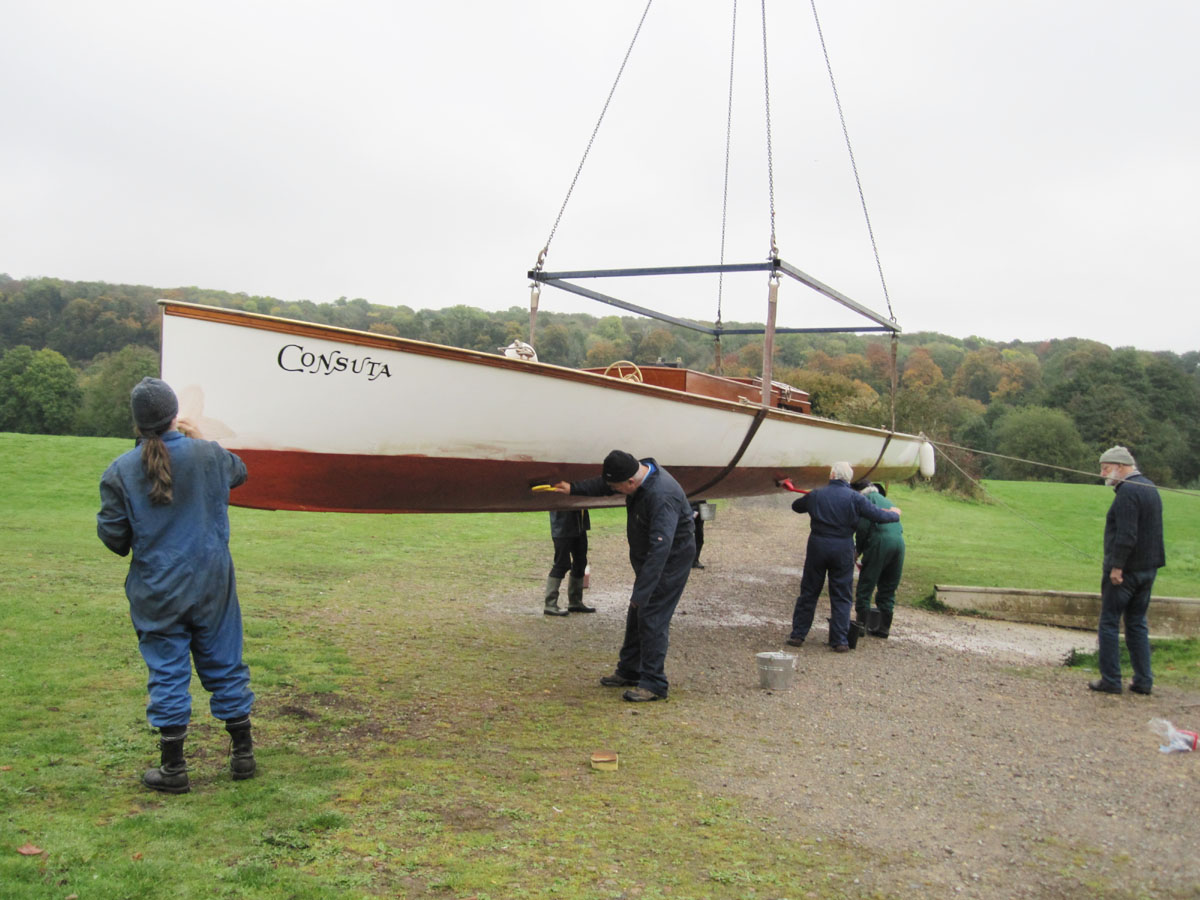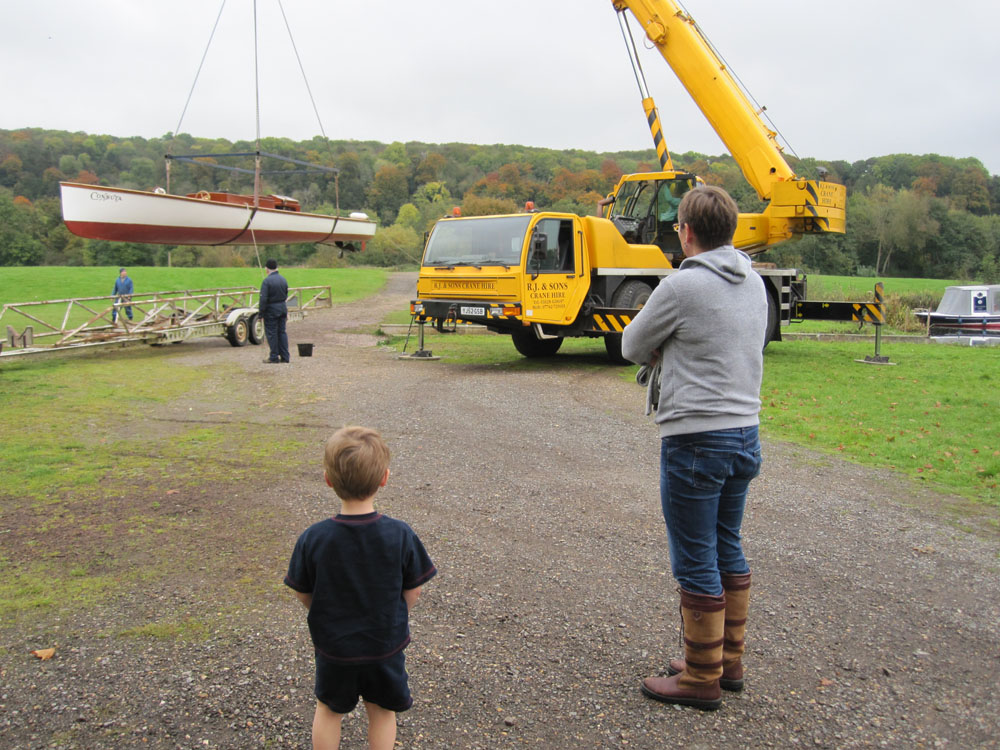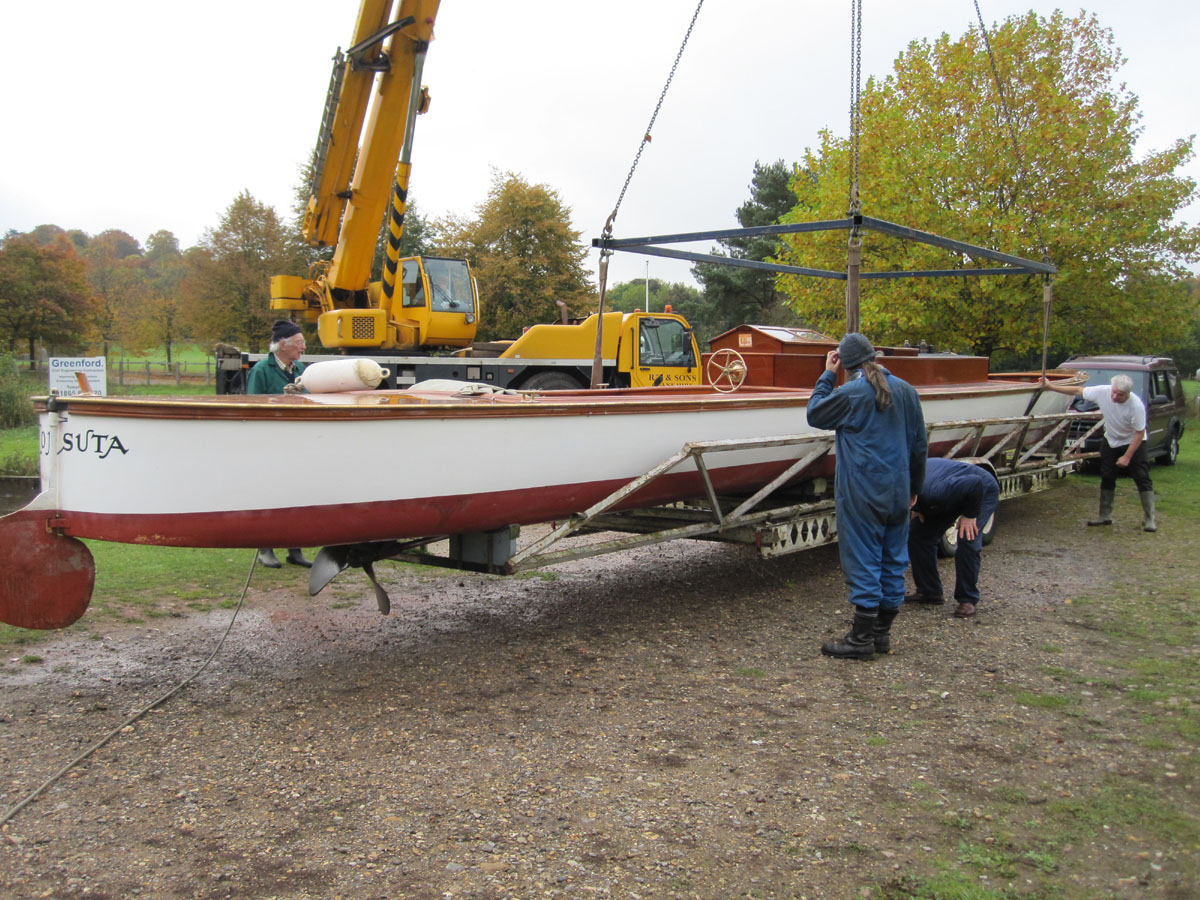 Consuta now on the trailer, was soon back by the Cowshed at about 10:30, unfortunately we were not able to put her under cover so she has to remain out in the open.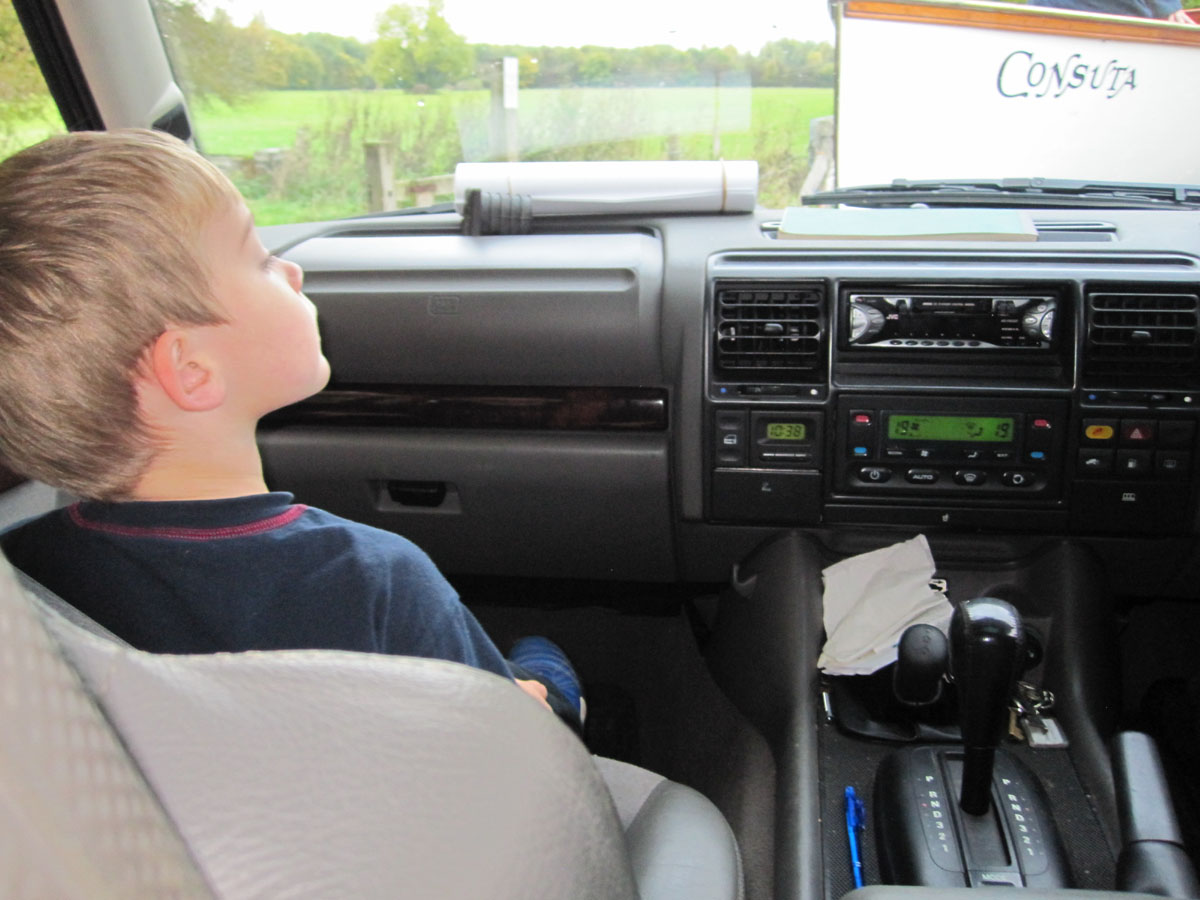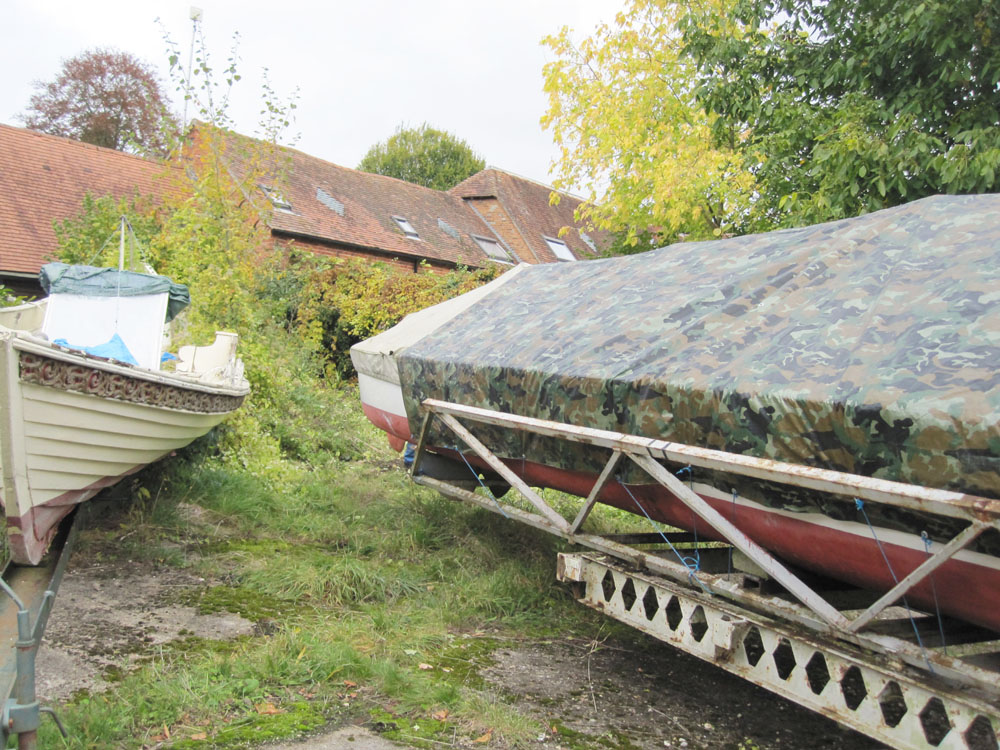 .............He thinks I can't see where we are going ............ All sheeted up ready for leaving out in the open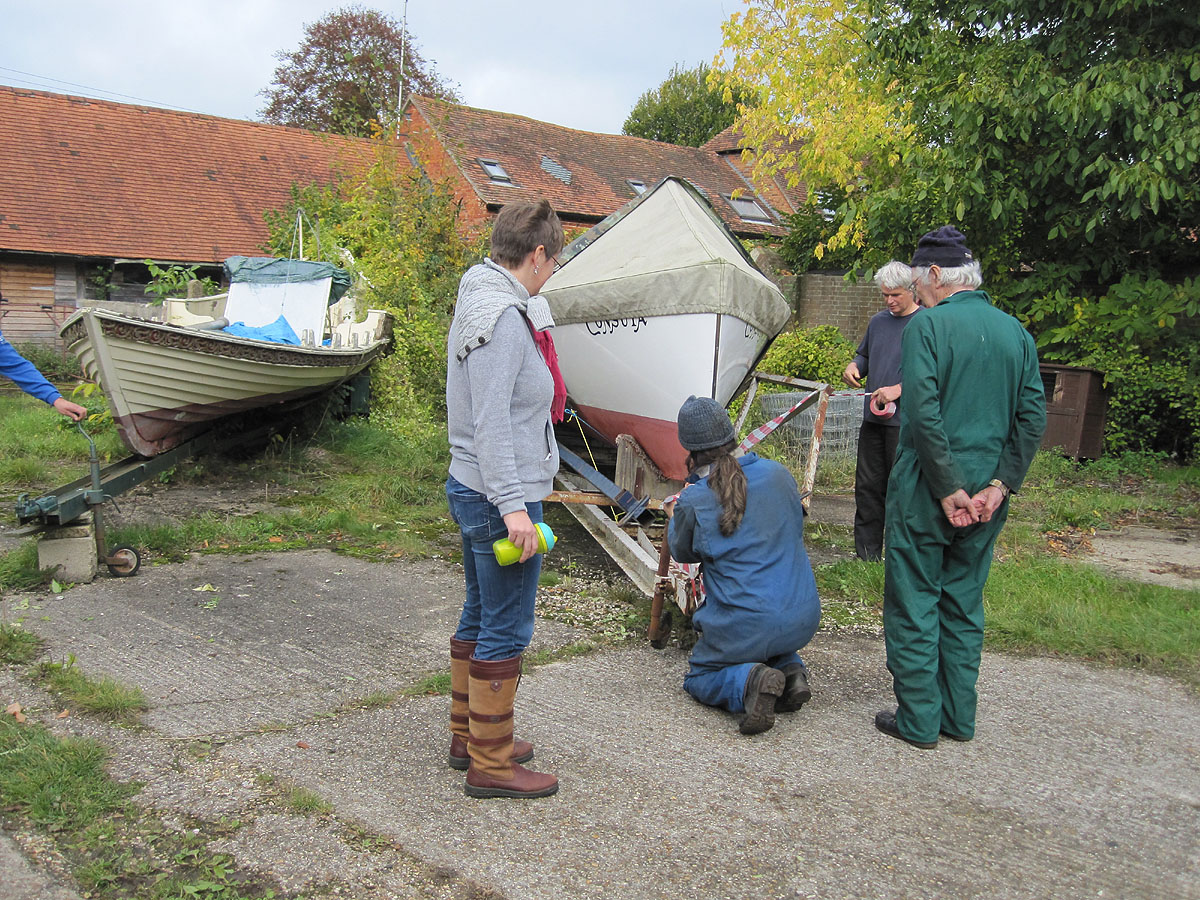 It really is a great shame that such an important historical launch has to be kept outside.
We then adjoined to the Bull at Streatley, which had some new menus with special discounts for the day; everyone enjoyed a lovely luncheon after a successful mornings work.
The season has all ended well so that's it until next year; but we have some exciting plans for 2017.
If you would like to see all the stories during 2016 click here