This page has a small selection from our comprehensive archive collection.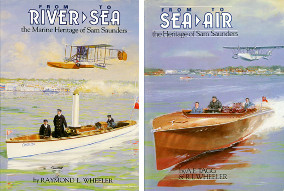 Books about S.E. Saunders
Raymond Wheeler has edited and published two excellent books about S.E. Saunders; the first is titled "From River to Sea" and the second "From Sea to Air". Although now out of print, copies of these can still be obtained from various booksellers.
River to Sea &nbsp&nbsp ISBN 0-9509739-3-9
Sea to Air &nbsp&nbsp&nbsp&nbsp&nbsp&nbsp ISBN 1-873295-05-7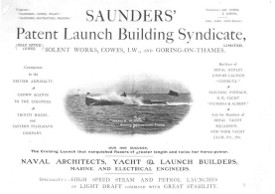 Saunders 1904 Catalogue
Sam Saunders published a catalogue in 1904 shortly after opening his Saunders Syndicate works on the Isle of Wight.
This 20 page catalogue can be downloaded in PDF format (1.7Mb), just click on the thumbnail.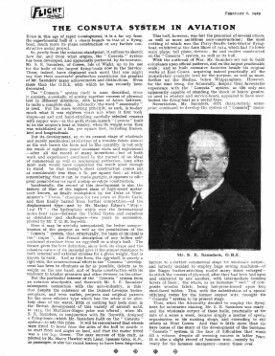 Flight Magazine 1919
The Flight magazine of 1919 published an interesting article about S.E. Saunders following the award of an OBE for his work helping build anti submarine aeroplanes during the 1st world war.
Click on thumbnail to see this in PDF format. Opens in new page.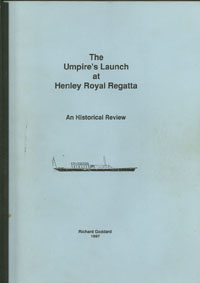 The Umpire's Launch at Henley Royal Regatta
This excellent historical review publication was researched and produced by Richard Goddard in 1997.
The book covers the whole history of umpiring the Henley Regatta boat races from 1837 to present day. Steam launches were used from about 1870 and Consuta was built in 1898 to have less wash than the earlier umpire launches.
Click on thumbnail to download 31 pages in pdf format (2.2Mb). Opens in new page.
Consuta in steam - early 1900
A nice piece of video from Pathé newsreel shot at Henley during winter months. Click on image to start.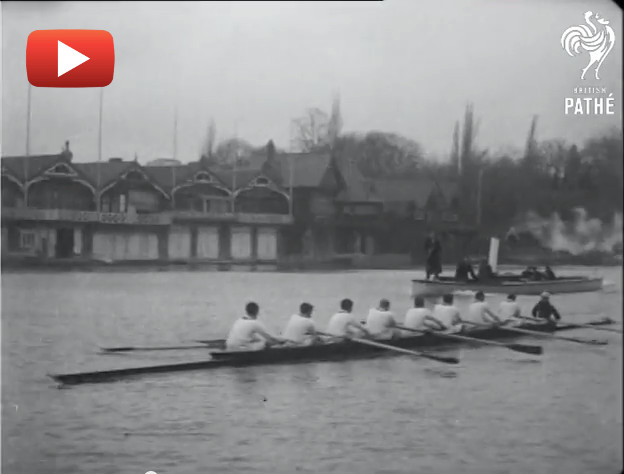 Original Consuta Photographs - pre 1920
Click on any of the thumbnails below and then start a rolling gallery of old Consuta photos.
Consuta the BBCTV OB launch - from 1949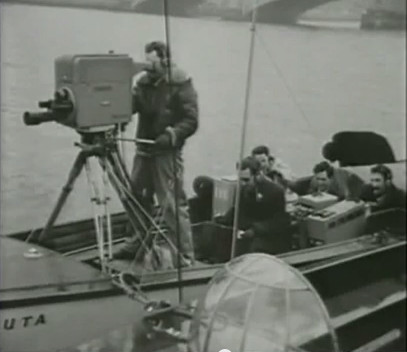 In 1949 Consuta was used by the BBC when it carried a camera for the first live televised coverage of the Oxford and Cambridge Boat Race presented by Raymond Baxter and John Snagge. The launch continued to be used for this purpose until well into the 1960s.
Consuta ready to cover the boat race during 1951, this was the year when Oxford sank due to rough conditions.
John Snagge was once being interviewed about commentating on the Oxford v Cambridge race, where he was asked how he could see which team was ahead in the final stages of the race.
John replied that he could not always see with accuracy, but relied upon a gentleman at the finish line who hoisted light blue and dark blue pennants on lanyards from a mast to indicate the relative positions of the two crews. Upon hearing this, the gentleman who hoisted the pennants apparently wrote to the BBC to say that he positioned the pennants according to John Snagge's commentary, which he was listening to on the radio.
It appears that her petrol engine was not always that reliable. About 13 minutes into the December 1955 Goon Show John Snagge says Tell him it's John Snagge -- No, no, no, no, wait. Tell him... It's Snaggers. He who's voice once-yearly rings out from the Thames motor launch, that usually fails. He who's voice tells the masses of a watery combat twixt men in two slender willow slim craft, that race on the bosom of our river and race past Mortlake Brewery towards their Olympic goal.